Västmanlands Världsmusikorkester WORK
Welcome to WORK – Västmanland's World Music Orchestra. Come and sit in at our rehearsals, like us on Facebook and subscribe to our YouTube channel for the latest news.
WORK is all play
WORK is all play Västmanland's World Music Orchestra shuffles tunes played in Västmanland for generations with newcoming traditional music, which in our setting blend to a unique mix of newly created tradition, claiming all corners of the world as homeland. Join us on a journey where Venezuelan calypso meets Karelian folk song, meditative Cretan long dance is woven into a Swedish slängpolska, where poetry from Sala becomes Indian lyric in a mix of hits from Somalia and Burundi, filtered through Västmanlandic 19th century spectacles. Let new tones, instruments and people unite in our common language – Music!
Everyone is welcome!
We meet in music, in a just large enough orchestra of playful youths and adults from all corners of the world, now living in or near Västmanland. Our repertoire reflects the participating musicians, who arrange all music by ear. Bring your favourite song from your hometown and share it with us. Everyone is welcome to our band!
The longest band name in the world?
The proverb "Dear child has many names" goes along well with our orchestra's shifting settings and band names, since our association was started in 2009. Actually, the band history goes back a few more years when the WORK orchestra started as part of Västerås kulturskola's world music initiative, led by Renato Gamba, Thord Sandström and Kella Næslund. In 2018 Västmanlandsmusiken became a partner, opening up the orchestra to the entire county, with Regional Kulturskola in Västmanland as its new base and inviting Josefina Paulson as the new musical leader. During the years the members of the orchestra have varied, but its core has remained intact. Since 2020 the orchestra receives support by Kulturens bildningsverksamhet.
Musical leader: Josefina Paulson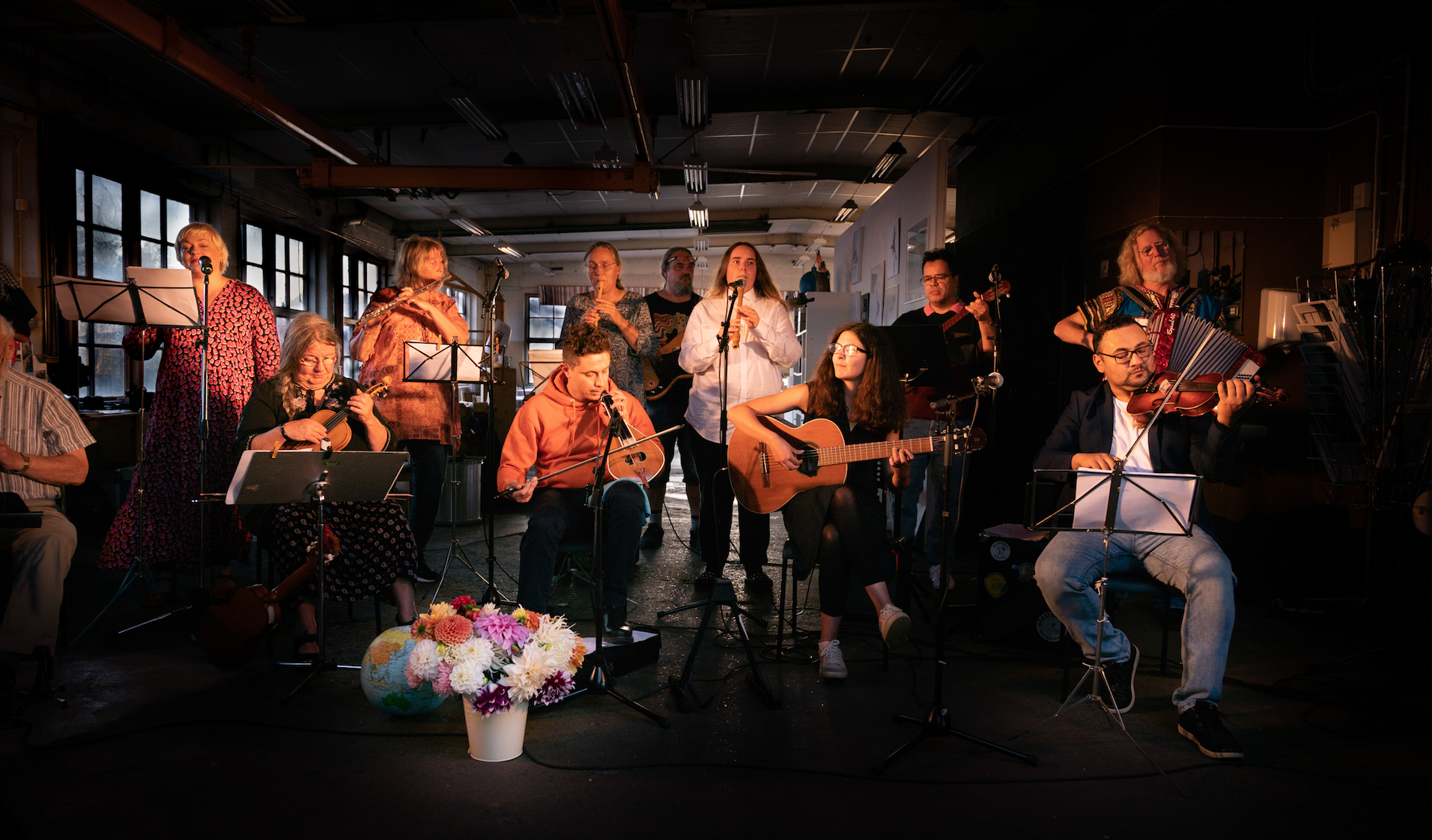 Members of the Orchestra
Manousos Kokkinakis, moved from Greece to Västerås and plays lyrically on his Cretan lyre, inviting us to dance along in the everchanging swing of a meditative long dance.
Hadi Noori, from Afghanistan, now living in Västerås, casts a spell with his velvet voice and takes us to new worlds with his traditional afghan instrument the rabbab or classical violin.
Sara Shahidi,tar, a beautifully singing new mother from Iran, living in Västerås.
Richard Rivas, cuatro/song, is one of our newest musicians, who stepped in and really started the party with his Venezuelan tones.
Minna Inari Larsson, based in Örebro with Finnish-Karelian roots, plays the keyed fiddle, kantele and surdo, and sings with a warm, characteristic voice that carries over the seven mile forest straight into your heart.
Hadi Melli, percussionist from Damascus, Syria, presently living in Västerås. The beating heart of our orchestra builds his exotic sound worlds (and miniature houses).
Eva Teljebäck, violin/ukulele, pleasantly dancing instrumentalist from northern Västmanland, Skinnskatteberg.
Eva Olovsson, violin, one of "the Evas" in the string section and fiddler from Skultuna.
Ernesto Vos, mandola musician from Västerås, an original member, who plays world music as well as classical music.
William Sonnerklev, härjedalspipa or flipple flute, a multi-instrumentalist and equilibrist, touching you with every tone. One of our youngest musicians, yet one of the first members.
Albert Veli, swing king from Västerås with Balkan roots, masters his self-made electric base.
Susanne Hiller, beautifully singing flutist from Västerås who also plays the harmonica and enjoys swimming outdoors all year round.
Kaj Stridell, The Surahammar double-bass player and jazz cat brings his soprano saxophone and tones from another musical world to our orchestra, sneaking in some cool jazz details.
Kerstin Gustavsson, a warm voice on recorder, song parts and occasional percussion. Originates from Västerås but took us all mountain hiking with a Maori peace song.
Katarina Bergin, recorder. Living in Västerås and a new member of the band.
Jonas Filling, drums, new in the orchestra but has already taking the place as its beating heart.
Asadollah Lalehzari, violin, accordion and Persian song, as well as happy folk dancer.
Azi Andersson, on her piano she lays beautiful soundscapes.
Anders Göran, multiinstrumentalist, play electric cello with us.
Teddy - Cheick Tolno, guitar and soulfull song, from Guinea Bissau.
Josefina Paulson, musical leader, living in the midst of the Broddbo forest, world champion and riksspelman on keyed fiddle, with a deep love for the treasure of traditional tunes from Västmanland.